Trenchless Water Main Replacment
Save time and money on yourr water main replacements by utilising the latest trenchless techniques from JD Moling Surrey. Our state-of-the-art moling equipment can bore accurate, efficient channels for new pipe work without the need for large scale excavation. This allows us to carry out our replacements with minimal disruption to your property.
Once in place, the new pipe work can be pulled through easily. This dramatically reduces your labour and equipment costs associated with traditional trench excavation. 
Using JD Moling's moling technique, trenchless water pipe replacement proves to be far quicker, more efficient and certainly more cost-effective than traditional trenching methods, with no need for unsightly channels dug through your garden and driveway.
Today JD Moling are leading the way in trenchless moling methods and technologies that are fast, efficient and cost-effective.
We work from your propertys boundary up to the connection inside your home and will provide a complete service that takes you effortlessly through the entire installation process.
Our replacement service consists of site risk assessment, installation, reinstatement and connection. Upon completion JD Moling will sign off the work and you will receive a WIAPS (Water Industry Approved Plumbers Scheme) Certificate.
Using the latest tech, we simply dig small pits and use high-tech pneumatic moling units that effectively burrow their way between the excavations – boring horizontally between the excavations. Using pneumatic power, the mole hammers its way through the soil to create a smooth bored tunnel that the new pipe is pulled through.

JD Moling work in compliance with the governments 'Drinking Water Quality Regulations'. This means that when we undertake work for our customers, they will have peace of mind knowing that upon completion, the water they are being supplied will be purer and of better quality.
JD Moling are fully insured and licensed meaning you can rest assured that the work we complete it fully insured for any damage.
As only excavations of no more than 1 metre square and 1 metre deep are required to introduce and receive the mole, there is no need to disturb the surface, the mole burrows discreetly under gardens, patios and driveways.
Our External Moling Services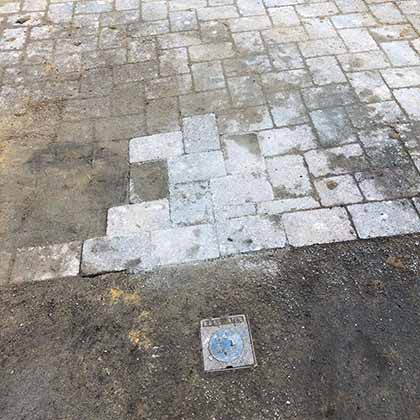 Trenchless Installations
Impact Moling is a technique in which a pneumatic piercing tool is used to create a bore hole. The ground is compacted and displaced rather than excavated and removed, therefore disruption and reinstatement are minimal.
Impact Moling is the simplest and least expensive trenchless technology installation method.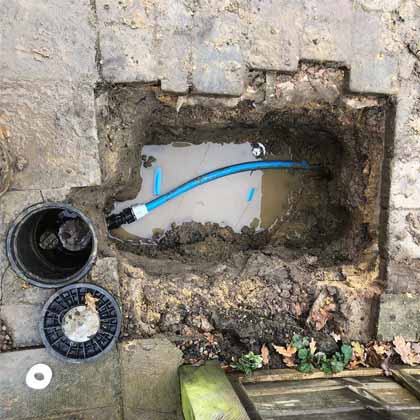 Water Mains Replacement
At JD Moling, our water mains replacement starts from the stop tap at the boundary of your property up to the connection inside your house, giving you a single, seamless water supply replacement that has superior integrity and flexibility, leaving it less prone to splits and cracks with none of the risks of lead contamination.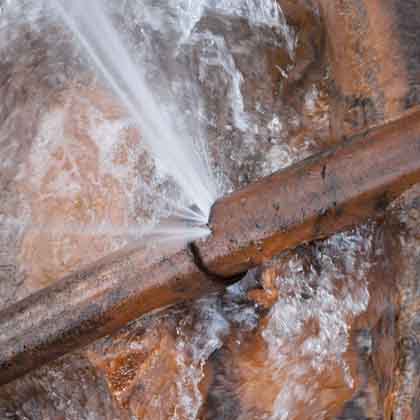 Leaking Pipe Repair
Leaking or burst pipes can form to create problems, which can turn into a disaster if not taken care of quickly. We offer our clients a priority service whenever they find themselves dealing with this kind of problem. If you are living in London, Essex, Surrey, Sussex, or Kent, you can call us for pipe replacement work.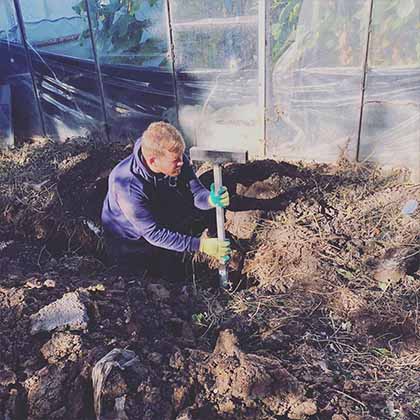 External Moling
Moling is one of the latest developments in the field of water main replacement. This technology allows us to bore channels for pipe replacements with a minimum of ground disturbance, without the need for heavy machinery!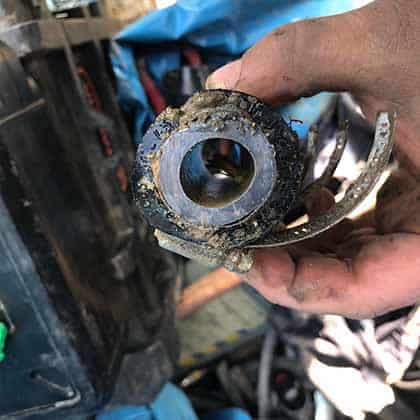 Lead Mains Replacement
Save time and money on water main replacements with the latest trenchless techniques from JD Moling. Our state-of-the-art moling equipment can bore accurate, efficient channels for new pipe work without the need for large scale excavation.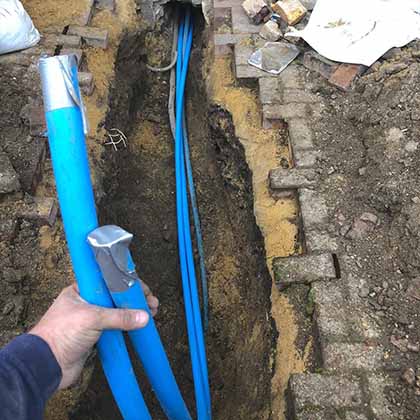 Mains Laying & Diversion
JD Moling can supply and install all types and sizes of water main. In addition to large scale mains laying services we also provide a bespoke design service for smaller projects, such as lead renewal, meter installations and diversions. So no job is too big or too small.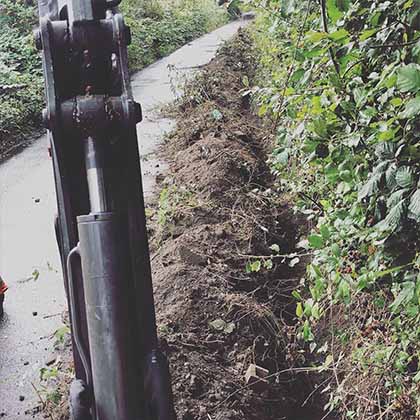 Leak Detection
Water leaks can cause serious damage if left, not to mention the high water bills if you are on a metred water supply pipe, here at JD Moling we have state of the art water leak detection equipment which enables us to detect the slighest leaks on water mains and incoming supply pipes.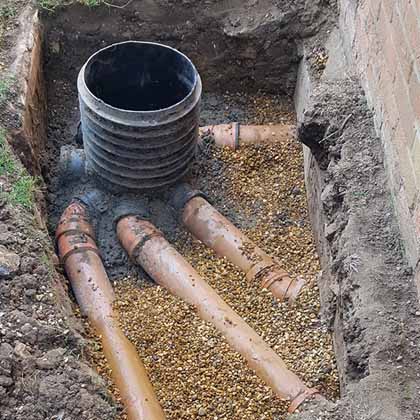 Drainage Services
When it comes to the designing and installation of drainage systems, we have plenty of experience working in both the private and public sectors. As well as adhering to all of the relevant health and safety regulations, our team works hard to ensure the whole process goes smoothly for our clients.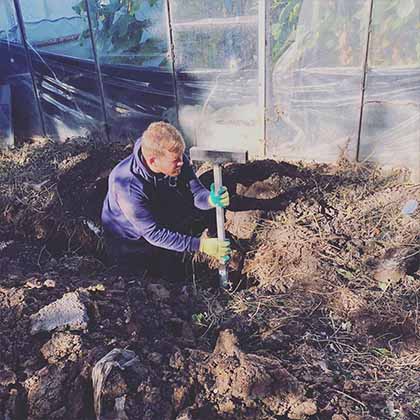 Civil Projects
We offer a gas and electric pipe laying service using our high tech moling systems in London, Essex, Surrey, Sussex, Kent and the surrounding areas.
This is the least invasive way to lay piping, as we only need to dig small entry pit and exit pits, with pits every 10-12 meters if needed; the average property only needs 3 small pits.
JD Moling - External Moling
The experts in water supply pipe replacements.
Even in a modern dwelling there is now often a requirement for higher flow rates and pressures due to the installation of systems such as pressurised hot water cylinders and combi boilers. New MDPE services can have a flow rate several times greater than traditional metal pipes or lead water supplys.
So if you have low water flow or pressure call today to take advantage of our water supply pipe replacement using the latest in moling technology.
Call Us Today For Your Free, No Obligation Quote!
JD Moling - External Moling
24 Hour Emergency Service Availability
We strive to be in constant communication with our customers until the job is done. For emergency service, to get a free quote, or if you have questions or special requests, just drop us a line. We look forward to serving you!
Call Us Today For Your Free, No Obligation Quote!
Contact Us For A Free Quote
Our simply contact form below makes it easier for you to reach out to us for a free, no obligation quote. 
How Do I Know I Have A Leak?
If your property is fitted with an external water meter there is a simple test you can do to check for leaks. Ensure that all appliances and taps are turned off and then monitor the meter.
No dials should move and if they do there may be a leak on the system.
If you assume a leak - If a leak on the water supply pipe is suspected and you are the property owner it is your responsibility to have it repaired or replaced promptly.
Please contact us as soon as you can to avoid water damage to your property.
Leaks - If water is leaking from your system your pressure will drop.
Shared supply pipes - you may experience low pressure during peak periods. An independent supply is highly recommended.
Supply pipe size - a smaller internal diameter will limit the flow rate to the property.
Pipe Corrosion - restricts water flow and can lead to leaks
Heating systems and showers - Many new showers and combination boilers will need a minimum level of flow to work effectively
At JD Moling – External Moling Experts. we specialise in water supply pipe repairs, water supply pipe replacement and lead pipe renewals within Surrey and London. Our highly skilled and fully qualified engineers are committed to the highest level of customer care at all times.