Call 07854104172 for a free quote anywhere in London or the Surrey area!
Finding Leaks & Tracing Pipes
At JD Moling – External Moling Services Surrey, our specialist engineers are fully trained and experienced in using an array of various types of leak detection equipment and listening devices to pinpoint exact leaks and locate water supply pipes quickly and efficiently to your property or project.
Our simple, find and fix service can locate burst water pipes, isolate the problem and repair the leak with the minimum amount of fuss.
The tell tale signs of leaking pipes?
Have you noticed a particularly lush patch of green in your garden or a close neighbours garden, a clear sign of increased water supply?
Does your household plumbing make strange noises when the heating or water is on changed?
Have you experienced a sudden or dramatic drop in water pressure when using showers or taps?
If you have experienced any of the above, there is a very good chance you have a leaking pipe and ideally need someone to trace it as soon as possible.
At JD Moling we use the very latest of listening devices to follow the sound of the water in the pipes and trace the path of your exisiting water pipes down to the leak. Using our specialist tools we are even able to the difference between plastic pipes and metal pipes.
Using the very latest in state of the art listening devices our specialist services engineers will always try to avoid the need for excavating long lengths of pipe by carefully listening for the source of the leak. 
The underground pipe from the boundary of the property to your house is your responsibility as a rule of thumb, if the pipe is beyond your property deeds then it is the water companies responsibility to repair.
Our use of ground microphone equipment allows us to trace, amplify and show a noise reading created by water escaping from a pipe underground or in a wall.
Our External Moling Services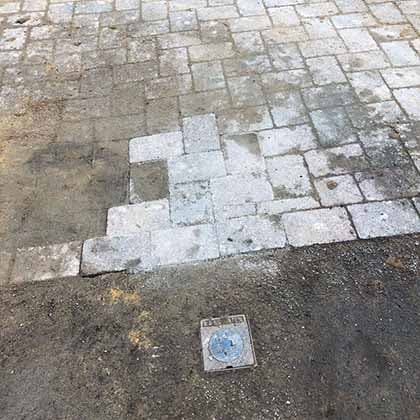 Trenchless Installations
Impact Moling is a new digging technique in which a pneumatic piercing tool is used to create a bore hole in the ground where the ground is compacted and displaced rather than excavated and removed, meaning disruption and reinstatement are at a minimal to your property.
Impact Moling is now seen as the simplest and least expensive trenchless technology installation method to use when adding or replacing water supplies.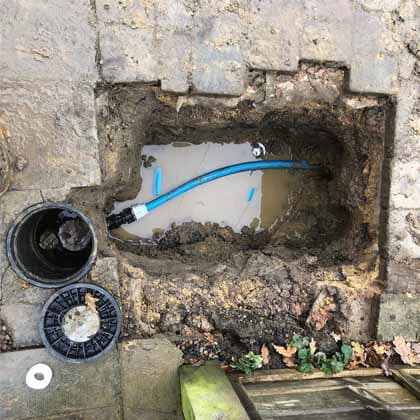 Water Mains Replacement
At JD Moling, we use the latest state-of-the-art leak detection to find the precise location of the leakage and replace the pipes without the need to cut out trenches by making use of our Impact Moling service  for installing, renewing, and repairing mains water pipes in a very cost effective manner.
Contact us today for further information regarding our water mains replacement service in London and the surrounding areas.
Leaking Pipe Repair
Having leaking or burst pipes can form to create problems in your property which can turn into a disaster if not taken care of quickly and effectively. Once the water leak underground has been detected we can carry out a water pipe repairs with the labour to repair the leak included in the price.
If you are living in London, Essex, Surrey, Sussex, or Kent, you can call us for pipe replacement work.
External Moling
Moling technology allows us to bore channels and routes for pipe replacements and repairs with a minimum of ground disturbance required, this means there is no longer a need for heavy machinery.
Lead Mains Replacement
We employ the very latest techniques and technology to deliver fast and effective lead/plastic pipe replacement using the latest state of the art moling technology.
Mains Laying & Diversion
JD Moling, with over 20 years of experience can supply, lay and install all types and sizes of water mains to your property. If your project is slighly smaller please feel free to contact us regarding a bespoke solution to your project, be it meter installations or larger laying requirements, no job is too big or too small.
Leak Detection
At JD Moling our highly trained and fully insured professional engineers can trace leaks using non-intrusive detection such as Thermal Imaging, Acoustic, Nitrogen Hydrogen & Leak Correlation. A leaking water pipe can cause serious damage to both yours and other property if not fixed.
Drainage Services
When installation and designing new or replacement drainage systems look no further than JD Moling, with over 30 years of experience working in both commercial and domestic sectors. 
Civil Projects
We offer a gas and electric pipe laying service using our high tech moling systems in London, Essex, Surrey, Sussex, Kent and the surrounding areas.
JD Moling - External Moling
The experts in water supply pipe replacements.
If you require a new water main from the meter to the house, look no further than the mains water supply replacement experts JD Moling. Many older homes were originally piped with either galvanised, copper or lead materials, and over time may have developed leaks along the way, particularly common in the water main pipe to the house.
These pipes when leaking or burst may often go unnoticed until you get a large water bill as they are generally under ground and not noticable. Low water pressure, rusty coloured water, and leaking pipes are just a few of the symptoms of poor quality piping. All will lead to pipework replacements.
Call Us Today For Your Free, No Obligation Quote!
JD Moling - External Moling London
JD Moling 10 Year Guarantee
JD Moling Ltd are pleased to announce we now offer a 10 Year Guarantee on completed JD Moling Ltd groundworks. Please contact the team for more information!
Call Us Today For Your Free, No Obligation Quote!
Don't Ignore A Leaking Pipe
There are many reasons why people may need to have pipework replacements or water main replacements in their home or property.
Split pipes and burst pipes are a common nightmare for many people in their home. Once the pipes start to split they will just keep splitting and the fittings will start to burst here and there around the house, often at the worst time.
All homeowners and even those renting should be aware of the signs of deteriorating pipes, bursting or splitting pipes, and suspect looking joints in your pipework which may cause at the very least a nuisance, and in more extreme cases a disaster incurring massive cost in damages to your building or posessions.
Have You Got Low Pressure?
Spotting Low water pressure is usually easy to spot by how irritating it can be when you try to turn on two different plumbing fixtures at the same time, whether it be an outside tap or garden hose, the kitchen sink or basin, a shower or even a toilet.
Although your water pressure may be sufficient when only one fixture is operational, you'll definitely notice a drop in water flow when the second fixture comes into use.
The problem may be caused by poor pipe sizing, it could be because of poor plumbing design when the property was build or it could be due to a corroded water main line to your property.